Andrey Melkov about post soviet realities of education in Ukraine and Russia
13.01.2015
Andrey Melkov - Doctor of Theology Hab., PhD in Philology, Corresponding Member of the Russian Academy of Natural History, President of the Institute of Modern Humanitarian Researches, Editor in Chief of the Electronic Scientific-educational Journal "Studia Humanitatis".
Range of scientific interests: Church history, Slavic philology, Russian-Ukrainian relations.
The author of three monographs and textbook and more than 70 scientific articles on history of theological education, archaeography, linguistics, problems of Russian-Ukrainian relations.
* * *
1. Where did you study (speciality, department)?
I was educated at doctoral studies (habilitation) of Sts. Cyril and Methody Uzhhorod Ukrainian Theological Academy. Speciality – Church history, Department of Biblical studies, Church history and theoretical theology.
2. Why did you choose exactly that Academy? What kinds of documents were required? Was it difficult?
My choose was facilitated by several circumstances.
Firstly, despite the fact that I'm from Russia, I have a long cooperation with Ukrainian educational and scientific organizations within realisation united projects, I engage in public diplomacy and I'm well acquainted with the problems of Ukrainian Orthodoxy.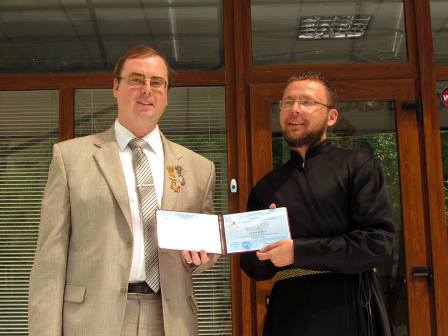 Secondly, nowadays in Russia it's impossible to defend dissertation and get the diploma in the area of theological disciplines and specialities. Even diplomas of religious seminaries are not accepted by the state, not to mention theological dissertations. Sts. Cyril and Methody Uzhhorod Ukrainian Theological Academy has become the first high religious educational institution in Ukraine, which gives an opportunity to prepare and defend dissertations according to the demands of the Ministry of education and science. When the new law of Ukraine «On Higher Education» was adopted, scientific degrees and academic statuses given by high religious educational institutions are considered to be equal to corresponding documents, which are given in established procedures.
That's why the defences of the doctoral dissertation in theology in Ukrainian high religious educational institution get the diploma, officially admitted by the government and broaden the possibility for further researching and educational work.
The documents for the enrolments to the doctoral studies (habilitation) corresponded to the specificity of the educational institute but differed from a standard one. It was necessary to adduce a written recommendation from Kyiv and whole Ukraine Metropolitan, a certificate about Baptism, diplomas about high education, including a theological seminary degree and a diploma of PhD, a list of scientific publications on the subject of dissertational research, autobiography and reference from the place of my work.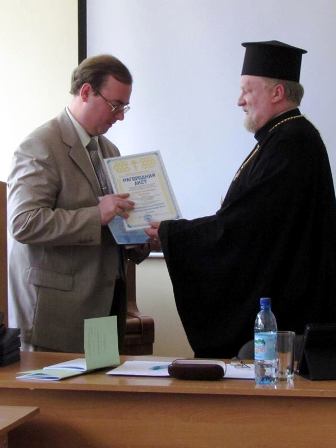 3. What is the difference between the Ukrainian and Russian system of education?
In spite of the fact, that either Ukrainian or Russian high system of education came from general Soviet educational system, they have certain differences.
So, studying according to the graduate programme in the Ukrainian high schools goes on one half ears, but it makes two years in Russia. The transition to the Bologna Process has been realized earlier in Russia than in Ukraine, but in Russia this system is not enough approved. Legislation in the field of high education in Ukraine reflects European practise. It concerns, for instance, licensing and accreditation of educational programme in the speciality of "Theology", establishment and operation post-graduate, doctoral studies, specialised scientific council of high religious educational institution in the area of knowledge "Theology". Eventually, Russian high educational system has none of that all.
4. How did you usually spent your educational day?
My doctoral education provided for my work in the libraries, archives, writing issues of the dissertation, communication with my scientific consultant, preparing articles, monographs, participation in the research conferences. Generally, this work was carried out remotely. But, of course, I took part in Academy's research activates – I made reports, represented the Academy in different scientific events and forums.
5. What is your favourite subject (why)?